The Heroes of Asgard

Original
Illustrations
by Louis Huard
Republished in 1930 with new
Illustrations
by Charles E. Brock
1871 Julia Goddard
Wonderful Stories from Northern Lands
Mythic Illustrations
1872 Andre Addison Crabtre


The Funny Side of Physic



Illustrations of the Days of the Week


1874 Alexander Stuart Murray
Manual of Mythology:
Greek and Roman,
Norse, and Old German, Hindoo and Egyptian Mythology
1875 William Zimmermann
Illustrite Geschichte des Deutsches Volken
Illustrations
1876 Carl Emil Doepler 'The Elder'
Richard Wagner's Der Ring des Nibelungen
Select Costume Designs

1877 Frederich Korner
Deutsche Götter und Göttersagen

The Wild Hunt
1877 Julius Naue


THE LOST MASTERPIECE
Das Schicksal der Götter nach der Deutschen Heldensage
"The Fate of the Gods from the German Heroic Saga"
A Fresco Cycle in a Private Home in Hamburg
1878 Julia Clinton Jones
Valhalla: A Saga in 12 Parts
1880 Ludwig Burger and P. Leutemann
Preussens Geschichte in Wort und Bild
Illustrations
1880 Johannes Minkowitz
Katechismus der Mythologie aller Culturvölker
Illustrations
1880s Various Artists
St. Nicolaus Magazine
Illustrations
1881 David Murray Smith
The Silver Star
A Romance of the the Northland
Illustrations
1881 Sir Edward Cooley Burne-Jones
Stained Glass Window Designs
1881 Agnes Kayser-Langerhannß
Odin: Nordische Göttersagen
Illustrations by E. Ph. Fleischer
1881 Peter August Gödecke
Edda
Frontispiece
1882 Frederick York Powell
Old Stories from British History
Illustrations
1882 Wilhelm Wagner and Jakob Nover
Nordisch-Germanische Götter und Helden:
in Schilderungen für Jugend und Volk
Reprinted as
Unsre Vorzeit
(1887)
Illustrations by
Various Artists
(Karl Ehrenberg, F. W. Heine, etc)
Illustrations by
Carl Emil Doepler 'the Elder'
1882 Helen Zimmern
Tales from the Edda
Illustrations
by Kate Greenaway and others
1882 Marie Jeserich Timme
Elfenreigen
Illustrations of Frau Holle
1883
Johannes Schrammen
Alldeutschland
:
Bilder aus der Götter- und Heldensage, aus der Geschichte
und der Kulturentwickelung des Deutsches Volkes
Illustration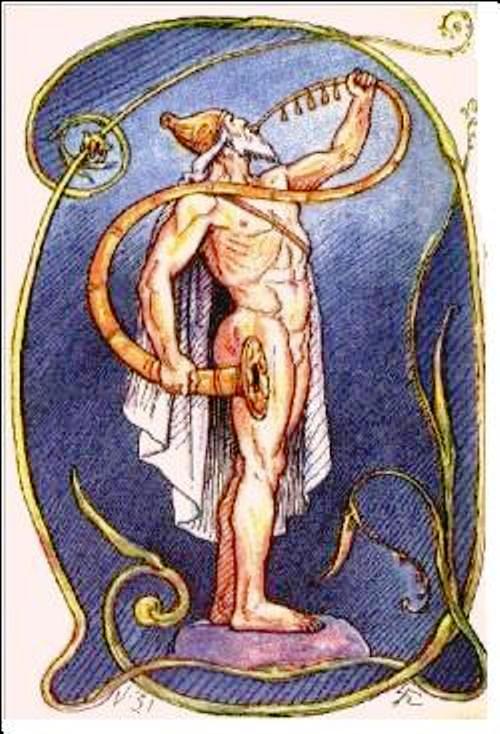 1885
Adam Oehlenschläger
Nordens Guder
Illustrations by Lorenz Frølich
1885 Felix Dahn and Therese Dahn
Walhall: Germanische Götter- und Heldensagen
Illustrations
by Johannes Gehrts
1886 Annette L. Davey
Old Tales and Legends for Young People
Illustrations
1886 Adapted from the work of Wilhelm Wägner
by M. W. Macdowall
Asgard and the Gods
The Tales and Traditions of our Northern Ancestors
Illustrations
by Various Artists
~many of these illustrations are also found in~
1887 Wilhelm Wagner and Jakob Nover
Unzre Vorzeit
Illustrations by
Various Artists
Illustrations by
Carl Emil Doepler 'the Elder'
1888 James Baldwin
Harper's Fourth Reader
Illustrations
1890 Mary Elizabeth Litchfield
The Nine Worlds, Stories from Norse Mythology
Illustrations
1890s James Doyle Penrose


Three Paintings

1890 Karl Ehrenberg

Allgemeine Götterlehre
Illustrations
1893 Ruth J. Pitt
The Tragedy of the Norse Gods
Illustrations
by
John Angell James
Brindley
1893 Frederik Sander
Edda Sämund den vises
Illustrations
1894 Liebig Meat Extracts
Trading Card Set S412
1894 Mara Louise Pratt-Chadwick
Legends of Norseland
Illustrations
1894 Annie Klingensmith
Tales of Norse Gods and Heroes
Illustrations
1894 J.N. Fradenburgh
Departed Gods
Illustrations
1895 Karl Gjellerup
Den Ældre Eddas Gudesange
Illustrations by Lorenz Frølich
1895 Anna C. Murray
New First Reader
Illustrations
1895 A. Hentschel and Karl Linke
Illustrierte Deutsche Litteraturkunde
in Bilde und Stizzen
Illustrations
1895 E. Louise Smythe
A Primary Reader
Old-Time Stories, Fairy Tales & Myths
Illustrations
The illustrations in this edition are attributed to various artists.
1898 Herman I. Stern